By Brian Willie, Amanda Horvath | Published on May 12, 2022 in Rocky Mountain PBS
Click here to view the video from ROCKY MOUNTAIN PBS 
DENVER — Inside a classroom in a Denver school, there is much more than desks, white boards, students and teachers. An entire hydroponic farm is growing alongside the minds of teenagers at Bruce Randolph School.  
Bruce Randolph school serves sixth through twelfth grades in the Globeville, Elyria-Swansea, Cole and Whittier neighborhoods in Denver. Named after "Daddy" Bruce Randolph, the school aims to carry on his work to help feed and serve those in need.  
[Watch: Keep a Light in Your Window: The Story of Daddy Bruce] 
"The mission of our school is to give back and for our students to be positive contributors to their community," said Melissa Boyd, the school's principal. "This is one amazing way that they can do this over and over again, not just on one day and for one community service project." 
Through partnerships with urban-gro — a company focused on indoor controlled environment agriculture — as well as the nonprofit Teens for Food Justice, Colorado State University and a grant, the school was able to bring the hydroponic farm into its natural resource room. This is where students can help grow all sorts of food like lettuce, kale, chiles and more.
"Everything here is, like, natural and most of the stuff we can take home," said one student who said their dream was to become a chef and found learning about growing natural food incredibly helpful toward that goal. "It just kind of feels like you're connected with everything." 
A hydroponic farm produces food in a controlled, soilless setting. A farm like this can be set up in various different ways, including in a classroom, but the result is the same — more connection and control to what is being produced.  
"The impact is immediate," said Katherine Soll, co-founder of Teens for Food Justice. "You are planting these seeds. You're growing the food. Five weeks later, you're harvesting the produce, and you're consuming it."  
Soll said this farm is so important to kids who can learn from doing, instead of just reading about it. Soll added that the farm gives students hands-on workforce development experience, too. The teachers involved say there is so much growth in this one classroom beyond the plants growing on the shelves. 
"[There is] magic and potential and friendship and of course, plants," said Sarah Peterson, the science team lead with Bruce Randolph School. "It's a space that students get to grow all those things together and grow their relationships with us as their teachers and with each other. They get to … make mistakes and learn how to be a part of a process that's bigger than them."  
Each month this hydroponic farm at Bruce Randolph school is expected to produce nearly 1,000 pounds of fresh produce. All that food is either going to the kids in the class or in a tent outside of school where families can take some as they pick up their kids.  
Denver's Food Deserts
Parts of Globeville, Elyria-Swansea, Cole and Whittier neighborhoods are considered a food desert. The map to the right uses information from the U.S. Department of Agriculture to define a food desert as a low-income census area that is more than one mile from a grocery store in urban areas. So, access to fresh food is difficult to come by, which means every pound produced at this school is making a difference.  (Click on the map to explore the food deserts.)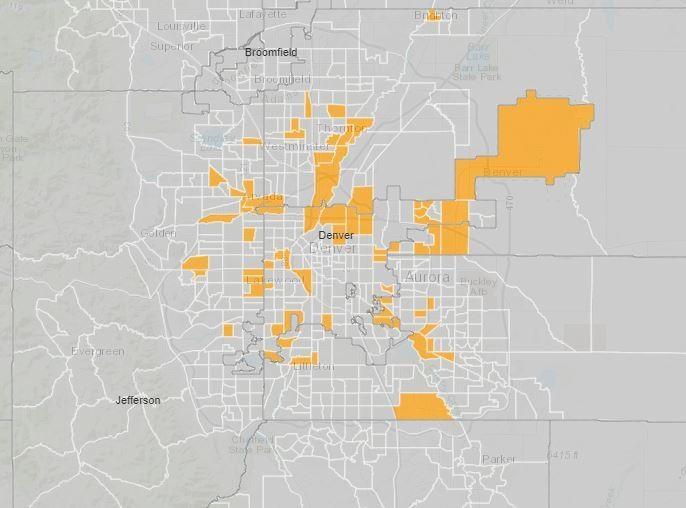 "I want to be a nurse," one student told Rocky Mountain PBS. "What this class is basically teaching me is, like, to give back to the community and to others." 
After years of planning and working to bring something like this to Bruce Randolph students, teachers, administrators and all those involved are happy to see it come to fruition and excited to witness its lasting impact.  
"You want students to be engaged in that classroom, of course, but what you really want is for three years from now, you see them at the grocery store or as you're driving through the neighborhood and there's something that they still make a connection to," said Peterson. "And I think that the work that we're doing here is really building those connections." 
Find the original article here in Rocky Mountain PBS.