By Lisa Elaine Held | Published Oct 14, 2021 in Peeled
In June of 2019, I visited Brownsville Collaborative Middle School in Brooklyn, where student farmers gave me a tour of a classroom that had been transformed into a hydroponic farm. They showed me cucumber and basil plants and talked about how they provide the plants with nutrients, check the water quality, and watch for pests. When Naim, 14, explained how he brought harvested vegetables downstairs to the cafeteria, Amani, 11, spoke up, saying she wanted to also "talk about the food boxes."
Amani told me that in Brownsville, it was hard to find food that didn't come from a fast food restaurant or a corner store and that the students were driven to distribute fresh produce to families during the summer months, when school was out. "We want to help the community by giving them healthy food access," she said.
Most of these kids hadn't even reached their teenage years yet, but they already understood concepts of both plant science and food sovereignty.
Talking to them made me optimistic about the future of the food system in a way that is rare for me, which is why I was excited to hear that despite COVID-19's disruptions, Teens for Food Justice (TFFJ)—the organization behind that educational Brooklyn farm—is expanding.
TFFJ currently operates two farms in Brooklyn, one in Manhattan, and one in the Bronx. Its first Queens farm is set to open soon in Far Rockaway, and the organization announced this week that it will become a much bigger project thanks to a $300,000, three-year grant from the U.S. Department of Agriculture (USDA). By 2024, it will have farms and programming in four schools on the Rockaway Peninsula, which is home to a large low-income population with limited healthy food access.
At the same time, the organization is in the process of getting partnerships with school districts in Denver and Miami off the ground.
Unwrapped
In early 2020, Teens for Food Justice was operating its four New York City farms and making big moves to expand. Then, COVID-19 came along, and when schools had to be shut down, so did the farms. At the same time, supply chain disruptions were hitting grocery stores, and many individuals who were already struggling to feed their families lost their jobs, and food insecurity rates rose.
"We saw immediately that there was this enormous…need for food, particularly fresh, healthy produce, and so we said, 'Okay, we're going to shut these farms down, but we're going to have a tremendous amount of produce to distribute; We have to get it into the right hands," said Katherine Soll, TFFJ's president and CEO. The team harvested about 1,000 pounds of produce in one week and sent it to partner organizations to get it into communities that were feeling the worst impacts of COVID-19.
That kicked off a bigger pivot into emergency food distribution. With the farms out of production, TFFJ's staff used their resources to source fresh food (from commercial hydroponic farms like Gotham Greens, Bowery, and Aerofarms and then far beyond) and then distribute that food to the communities they worked in. Soll said a lot of families were receiving emergency food assistance that was primarily packaged foods, and TFFJ tried to fill a gap by providing fresh produce. "That really is the lane that we're in, and it's the lane that we stayed in," she said. Between July 2020 and August 2021, the organization distributed more than 580,000 pounds of fresh produce.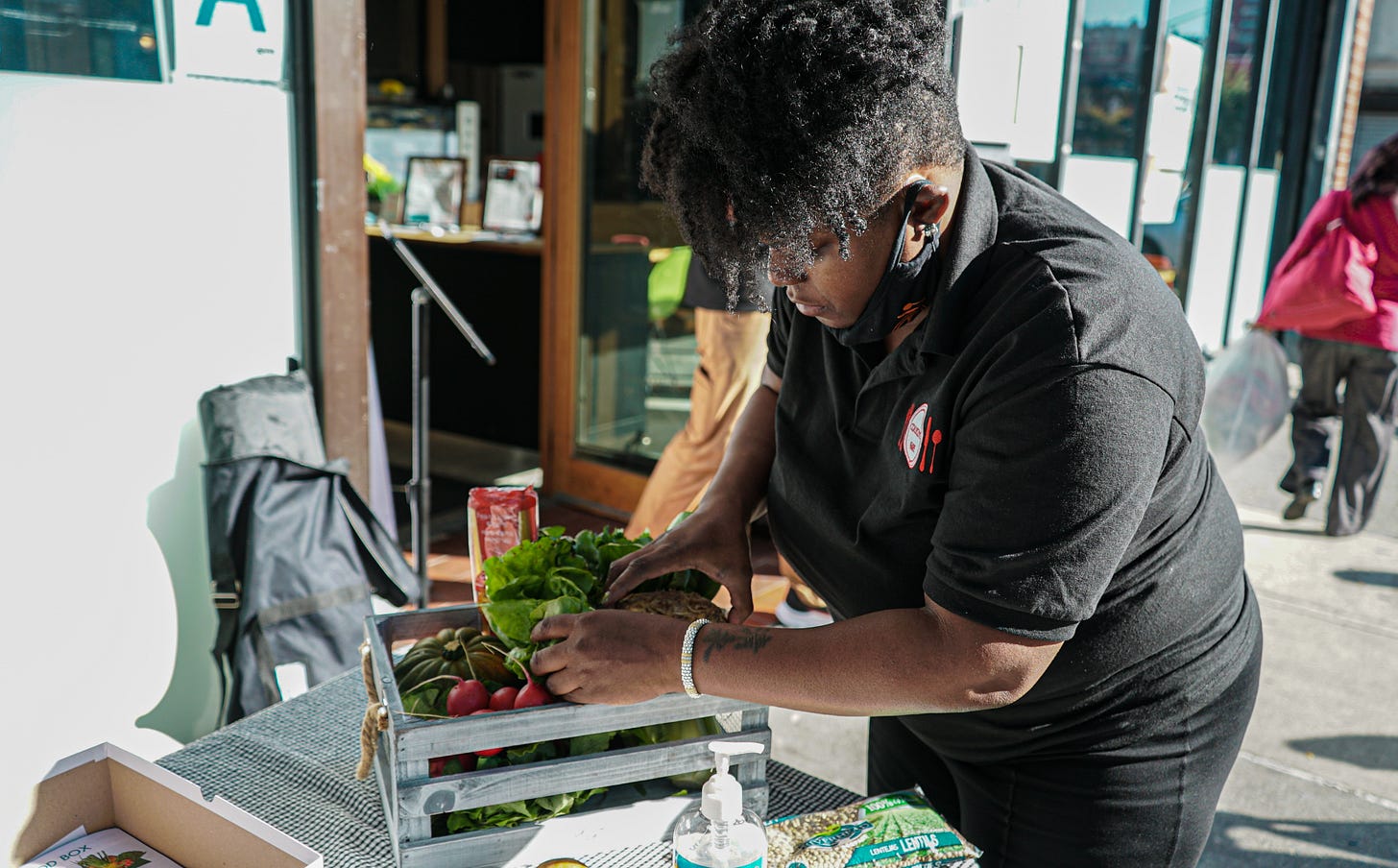 And like many other organizations that focus on farm, garden, and culinary education, TFFJ moved many of its educational programs online and sent hydroponic grow kits to students' homes, so they could continue to tend to basil and microgreens at a smaller scale. "We also expanded our reach to schools and children that we've never worked with before because, being that it was online and remote, they could tune in from anywhere," Soll said.
Still, nothing beats the on-farm experience. Now, as students are back to in-person classes, the farms are slowly coming back online, and Soll said that in some ways, the pandemic lent new urgency to the work.
"The mission of the organization was always to create a youth-led, community-based solution to food insecurity and the health disparities that come from food insecurity, which primarily impact our low-income communities of color here in New York and beyond, through training kids to be cutting-edge, new-generation farmers and producers of good quality healthy food—which we desperately need," she said. "And I think that what the pandemic showed was that this is more important than ever."
The pandemic also exposed weak spots in long supply chains, which Soll said points to the need for more local food hubs that can provide people with healthy food and stronger partnerships with communities to understand what people really need.
Whether or not regional, community-based food systems should include more indoor, hydroponic production at a commercial scale is a bigger issue with many embedded questions that have yet to be fully explored. How energy-intensive are indoor growing systems, for example, and what happens during climate emergencies when power is down? Where are the liquid nutrients coming from, and are we sacrificing anything important to human health by skipping soil? And when the systems are owned by global corporations, as they often are now, who really benefits: local communities or tech giants?
It's clearly not TFFJ's job to answer those questions, though, and the reason I find the model so compelling is that it seems to select a specific food justice solution—in this case, hydroponic farming in schools—based entirely on the needs and variables of the situation and community it serves.
In urban schools that don't have expansive green space but can spare an empty classroom, indoor production not only makes sense, it allows the students to produce a more meaningful amount of food. Hydroponic growing also serves STEM learning objectives incredibly well, and those skills are essential for kids to succeed in today's world. Finally, since the students don't need extra time to leave the building or clean up after getting covered in dirt, they're able to run the farms themselves in between English and history classes. As a result, what I saw in Brownsville was a real sense of ownership.
At one point, Kayla, 11, looked around the room and quickly noted the plants that were in need of harvesting. "The cucumbers, they look good, and we're about to harvest them," she said. "I can't wait to do that."
Now, TFFJ will try to create that same energy in other boroughs and states.
In the four schools on the Rockaway peninsula, TFFJ will train 20 teachers, engage more than 4,000 students, and produce around 20,000 pounds of produce annually. The effort is likely to complement other outdoor farm- and garden-based food justice work that other groups have been doing in the area for several years.
Soll is in the process of finalizing agreements with two middle schools in Miami, and her team is already ordering equipment for the first farm in Denver, which she anticipates being installed in about a month.
"The farm there is very exciting. It shares a room…with a culinary lab, and the farm is really high capacity. It has the capability to grow as much as 12,000 pounds of fresh produce a year," she said. "And the campus will also have an outdoor garden and an outdoor greenhouse. So there's a whole lot going on."
Find the original article here in Peeled.